Questions & Answers about Pregnancy and Work
Questions & Answers about Pregnancy and Work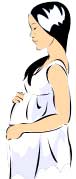 Q: I'm pregnant. Do I have legal rights to protect me in the workplace?
A: Yes. There are state and federal laws that protect you from discrimination because of pregnancy. If you work for an employer (private, public, or employment agency) with 3 or more workers, your employer cannot discriminate against you because of pregnancy, childbirth, or pregnancy-related conditions. A pregnancy must be treated the same way as any other temporary medical disability. This means:
You cannot be fired, denied a job or a promotion simply because you are or may become pregnant.
You cannot be forced to take a leave because you are pregnant if you are able and willing to work.
Employers (or potential ones) cannot ask you about your plans to have children or your pregnancy unless this information is directly related to a specific job.
In general, employers must not treat pregnant employees any differently from other employees. For example, the employer cannot provide health insurance that treats pregnancy and childbirth any differently from other medical conditions.
Q: Am I allowed to take a leave of absence?
A: Yes. The Pregnancy Discrimination Act (PDA), the state and federal Family and Medical Leave Acts (FMLA) and CT's Anti-Discrimination Laws protect eligible employees who need to take leave during or after pregnancy (maternity leave). If an employer offers sick leave or disability leave to its employees, it must permit pregnant employees to use that leave for pregnancyrelated conditions. "Family and medical leave" allows an eligible employee (man or woman) to take an unpaid leave of absence (generally up to 12 or 16 weeks) to care for a child upon the child's birth or adoption.
Q: Can my employer decide when or if I have to stop working?
A: Generally, no. If you are physically willing and able to work, you can keep working. But if your pregnancy interferes with your ability to do your job, your employer must treat you the same as any other temporarily disabled employee. (For example, modifying tasks or transferring you to a suitable temporary position, if one is available.)
Q: Can I keep my benefits while I am on leave?
A: The employer must treat pregnancy as it does any other temporary disability. Therefore, if your employer continues benefits for other disabled employees, it must do so for employees on pregnancy leave. Under the federal FMLA (but not under the CT-FMLA), employers must continue group health insurance plans for up to 12 weeks.
Q: Will I get my job back after my leave is over?
A: Yes. When you return to work after pregnancy or family and medical leave, you must be given your same (or a similar) job back, with the same pay, benefits and seniority. There is an exception if a private employer can show that circumstances have changed so much that it would be unreasonable or impossible to have you work at the same or similar job.
Q: Can I collect unemployment compensation (UC)?
A: Probably not as you must be both physically able and available to work to be able to collect UC. However, if you are able to do light duty work but your employer does not have a light duty job to give you, you may be able to collect unemployment.
Q: How can I make sure my workplace is safe?
A: Whether you are pregnant or not, your employer must provide a safe place to work by telling you about substances which may be dangerous to your unborn child or your reproductive system. You cannot be punished for refusing to expose yourself to hazardous conditions. You cannot be required to be sterilized as a condition of getting a job. If you find something dangerous, notify your employer in writing. Also ask your employer in writing to transfer you (at least while you are pregnant) to another job or to take steps to protect you from the danger.
Q: What can I do if I'm fired or denied other rights?
A: You can file a pregnancy discrimination complaint with the CHRO/CT Commission on Human Rights & Opportunities (1-800-477-5737) and the US Equal Employment Opportunities Commission (1-800-669-4000). You should file right away, but you must file your CHRO complaint within 180 days (300 days for EEOC) of the latest act of discrimination. And, if you are eligible under the FMLA, you file your claim with the CT Dept. of Labor (860-263-6790).
This information is based on laws in CT as of 2/2010. It is not intended as legal advice for an individual situation; individuals should consult with a lawyer if possible. Produced by the Legal Assistance Resource Center of CT.
For more information, contact:
Statewide Legal Services: 860-344-0380 (Central CT & Middletown) or 1-800-453-3320 (all other regions).
Not from Connecticut?
Most of the information on this web site is for Connecticut residents only. Visit LawHelp.org to find a legal services program and/or a legal information web site in your area.