Main Content
If you were arrested when you were under 18, you probably have a juvenile record.
A juvenile record does not go away on its own. You are better off without one because having a record can make it hard to get a job, get into college or the military and even to rent an apartment. The good news is that most juvenile records can be erased. Visit ErasURecord to find out of you can erase your juvenile record.
Can I Get My Record Erased? What Are My Rights?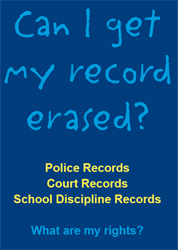 By: Center for Children's Advocacy
You may be able to go to court and get your police records, court records, and school discipline records erased. Download booklet.