Main Content
The Planning and Placement Team Meeting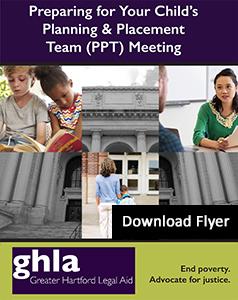 The purpose of a Planning and Placement Team (PPT) meeting is to initiate and discuss evaluations; determine eligibility for special education services; develop a child's Individualized Education Program (IEP); or to review and/or revise the child's program.
PPT Pointers
Review your child's education records before the meeting.
Invite support person(s) to attend the meeting with you. Ask the school for an interpreter if needed.
Make a list of questions you want to ask at the meeting.
Share information about your child. What is your child good at? What is hard for your child? What makes your child upset, angry or nervous? What calms him down? Does your child like school? If not, why?
Ask questions about your child's program and progress at the meeting. If you are not happy with the answers, or if you do not understand the answers, ask more questions.
Understand the reasons for any changes in the IEP. Review and write down the team's recommendations. If the team refuses something that you have requested, ask for a copy of the Prior Written Notice page and get a copy of your procedural safeguards.
Review the IEP once you have received it. Pay attention to the recommendations. Do the recommendations match what you discussed during the meeting?
Speak regularly with teachers and other staff outside of the PPT.
Ask for another meeting if your child is struggling or you have concerns.
Questions You Might Want to Ask
Is my child making progress?
If so, how do you know? What does the data say?
If no progress, why not? What can we change to help my child make progress?
Is my child reading on grade level? If not, what grade level is she reading on?
What services or strategies can you add which will help improve her reading level?
What strategies help my child learn best?
What do the evaluation scores mean?
Has my child had any disciplinary referrals? How many?
Is my child's behavior plan working? If not, what can we change?
What kind of transition services is my child receiving? What should my child realistically be thinking of doing after graduation?