Main Content
A non-adversarial divorce is a simplified version of a regular divorce. You will have to meet certain conditions in order to qualify. If you qualify, you can get a divorce within 35 days and you may not have to go to court. This areicle will help you
find out if you can qualify for a non-adversarial divorce, and
get started with filing your court papers.
Who Can Get a Non-Adversarial Divorce?
If all of these things true, you may qualify for a non-adversarial divorce:
The marriage lasted 8 years or less.
Neither spouse is pregnant.
No children were born or adopted before or during the marriage.
Neither spouse has any real estate (also called real property).
The total value of the belongings the spouses own together is less than $35,000.
Neither spouse has a company-sponsored pension plan.
Neither spouse has a pending bankruptcy.
Neither spouse is applying for or getting Medicaid benefits.
A divorce is not already in progress.
There are no restraining or protective orders between the spouses.
You can find out more about qualifying by reading this pamphlet by the State of Connecticut Judicial Branch.
How to Start a Non-Adversarial Divorce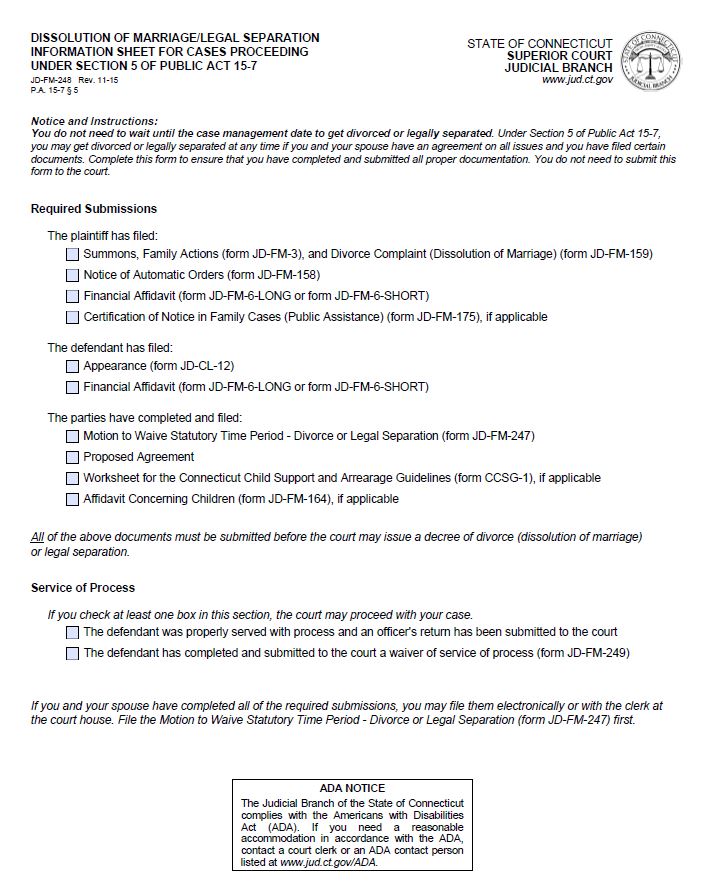 You and your spouse will need to file form that says you meet the conditions that qualify you for a non-adversarial divorce. The paper must be notarized, which means you will need to swear that the information in it is true and sign it in front of the court clerk.
The Judicial Branch has a checklist with all the forms you will need to submit. It can be found here: http://jud.ct.gov/webforms/forms/FM242.pdf. If you need help understanding what is on this list or filling out the forms, you can go to a Court Service Center, located at most courthouses.


Going to court can be stressful. This video will cover everything you need to know about getting ready for a court hearing, including what to wear, who to bring with you, what happens when you see the judge, meeting with a mediator, and more. We hope that you'll feel more at ease and prepared after you watch this video.