Main Content
Coronavirus: Get legal information about court access, school, work, benefits, housing, and more during the COVID-19 crisis. Visit www.ctlawhelp.org/coronavirus.
General Legal Services Coverage Areas in Connecticut
To apply for assistance: Generally applicants should call Statewide Legal Services first to find out if they qualify for services. Call 1-800-453-3320 or 860-344-0380 between 9:00 a.m. - 12:00 p.m. and 1:00 p.m. - 2:00 p.m. Monday through Friday.
The following persons should call the legal services office closest to them:
Staff from social service or government agencies
To locate the office that serves your home town, click on the cities below to see a list of the towns that they serve.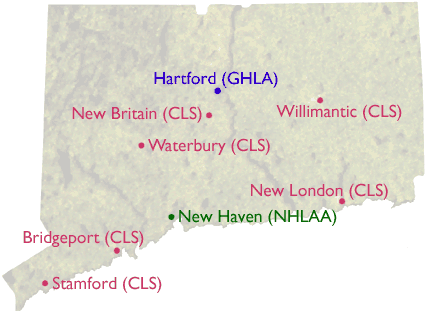 Connecticut Legal Services (Bridgeport)
For pamphlets call 203-336-3851
Visit this web site
| | | |
| --- | --- | --- |
| Bridgeport | Fairfield | Trumbull |
| Easton | Monroe | Stratford |
Greater Hartford Legal Aid (Hartford)
For pamphlets call 860-541-5000
Visit this web site
| | | |
| --- | --- | --- |
| Avon | Enfield | Newington |
| Bloomfield | Farmington | Simsbury |
| Bristol | Glastonbury | South Windsor |
| Burlington | Granby | Suffield |
| Canton | Hartford | West Hartford |
| East Granby | Hartland | Wethersfield |
| East Hartford | Manchester | Windsor |
| East Windsor | Marlborough | |
Connecticut Legal Services (New Britain)
For pamphlets call 860-225-8679
Visit this web site
| | | |
| --- | --- | --- |
| Berlin | East Hampton | New Britain |
| Chester | Essex | Old Saybrook |
| Clinton | Haddam | Plainville |
| Deep River | Killingworth | Portland |
| Cromwell | Meriden | Rocky Hill |
| Durham | Middlefield | Southington |
| East Haddam | Middletown | Westbrook |
New Haven Legal Assistance (New Haven)
For pamphlets call 203-946-4811
Visit this web site
| | | |
| --- | --- | --- |
| Ansonia | Guilford | Orange |
| Beacon Falls | Hamden | Oxford |
| Bethany | Madison | Seymour |
| Branford | Milford | Shelton |
| Cheshire | New Haven | Wallingford |
| Derby | North Haven | West Haven |
| East Haven | North Branford | Woodbridge |
Connecticut Legal Services (New London)
For pamphlets call 860-447-0323
Visit this web site
| | | |
| --- | --- | --- |
| Bozrah | Ledyard | Old Lyme |
| Colchester | Lisbon | Preston |
| East Lyme | Lyme | Salem |
| Franklin | Montville | Sprague |
| Griswold | New London | Stonington |
| Groton | North Stonington | Voluntown |
| Lebanon | Norwich | Waterford |
Connecticut Legal Services (Stamford)
For pamphlets call 203-348-9216
Visit this web site
| | | |
| --- | --- | --- |
| Bethel | New Fairfield | Ridgefield |
| Brookfield | New Canaan | Stamford |
| Danbury | Newtown | Weston |
| Darien | Norwalk | Westport |
| Greenwich | Redding | Wilton |
Connecticut Legal Services (Waterbury)
For pamphlets call 203-756-8074
Visit this web site
| | | |
| --- | --- | --- |
| Barkhamsted | Morris | Southbury |
| Bethlehem | Naugatuck | Thomaston |
| Bridgewater | New Milford | Torrington |
| Canaan | Norfolk | Warren |
| Colebrook | North Canaan | Waterbury |
| Cornwall | Plymouth | Watertown |
| Goshen | Prospect | Wolcott |
| Harwinton | Roxbury | Woodbury |
| Kent | Salisbury | Washington |
| Litchfield | Sharon | Waterbury |
| Middlebury | Sherman | Winchester |
Connecticut Legal Services (Willimantic)
For pamphlets call 860-456-1761
Visit this web site
| | | |
| --- | --- | --- |
| Andover | Hampton | Sterling |
| Ashford | Hebron | Thompson |
| Bolton | Killingly | Tolland |
| Brooklyn | Mansfield | Union |
| Canterbury | Plainfield | Vernon |
| Chaplin | Pomfret | Willimantic |
| Columbia | Putnam | Willington |
| Coventry | Scotland | Windham |
| Eastford | Somers | Woodstock |
| Ellington | Stafford | |