Main Content
Have you experienced unwanted touching, unwanted sexual advances, sexual jokes, comments, or gestures in your rental housing? Fair housing laws may help you.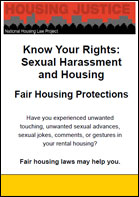 Know Your Rights: Sexual Harassment and Housing
By: The National Housing Law Project
If you are sexually harassed...
It is illegal for a landlord or someone who works for your landlord to ask you for sexual favors in exchange for renting an apartment, renewing your lease, repairs, or anything else related to renting.
Learn more about sexual harassment and housing from the Connecticut CHRO. If you feel you have been treated unfairly, contact their Housing Discrimination Unit.